Looking for an inside glimpse into what happens when you visit Center for Pediatric Medicine? How we prepare for your arrival? What's going on while you're waiting in the exam room or even after you leave the office?
Follow along and let's explore a day a Center for Pediatric Medicine!
Transferring to CPM is very easy. Please provide the office with any record release information before arriving on your first visit. CPM welcomes new and transferring patients. Please continue to contact the office in regard to our insurance policies as they change from time to time. Please contact one of our two office locations to schedule your first visit. Our staff will assist you on how to have your records transferred and what to expect on your first visit.
Our providers and Clinical Team Members ("CTM": RNs, LPNs and MAs) start preparing for your visit up to a week before your appointment. We like to familiarize ourselves with your child's background and medical needs to most effectively prepare for your visit. All of our Providers  have a CTM assigned to them and their patients daily. CTMs review schedules, make sure your charts are up-to-date, and check to see that we've received any outstanding reports (lab results, specialist visits, or emergency room/ hospital discharge summaries). When the CTMs have finished, we have a clearer picture of your child's medical history and can inform the provider of any pertinent information. The provider will then review the chart and history before you even walk in the door.
Our front desk staff also prepares for your visit ahead of time. In each office a member of our team reviews the schedules several days in advance. During this time they are working to verify insurance and note any changes from previous visits (when they identify these things ahead of time, it saves you time at Check-In!). We will also make sure all registration paperwork is up to date, clinical reports are scanned into the electronic chart, and everything is ready for the CTMs and providers. When all the information is verified the front desk will ensure that you are contacted via your chosen contact method (call, text, email, etc.) to confirm the date, time, and location of your appointment.
Your appointment day has arrived! Our front desk staff will greet you as you enter the office and get any updated information, collect forms and any payments (copays, outstanding balances, etc) that are due, and get you checked into our computer system. At the front desk we like to verify your contact information at every visit. We want to guarantee we can reach you if needed — you might be surprised how often addresses, phone numbers and emails change! We will also ask to see your insurance card –especially if a new year has passed. Insurances can also change quite frequently and we want to ensure you are being billed correctly to avoid any hassle for you!
While you're waiting in our reception area, our Clinical Team Members (CTMs) and providers are busy seeing other patients and preparing the exam room in which you will be seen. Because we have multiple providers seeing patients at one time, you may not be called back into an exam room in the order that you arrived or were checked in. We understand that can be frustrating, but if someone who arrived after you is taken back before you, they're usually seeing a different provider who's running on a different schedule.
We always try to be as prompt and efficient as possible. However, we can't always predict when other concerns, problems, or even emergencies will arise. When this happens we do our best to let you know if your provider is running behind and offer options or solutions if possible. No matter what, we make sure to give every one of our patients as much time as needed to see their provider, receive the best possible assessment and treatment, and, of course, answer all your questions and concerns. If you are in the office and feel as though you have been waiting for a long time, please feel free to ask for an update. We are always happy to help!
In the Exam Room with Our Clinical Team
As soon as you are checked into our computer system, the Clinical Team Member (CMT) assigned to your provider will start preparing to bring you back into an exam room. Once inside your CTM will get a complete set of vital signs (height, weight, temperature, blood pressure, etc. depending on the appointment type), and ask some necessary medical history questions.
All of this information is very important as it allows your provider to get a better picture of what's going on before entering the room (sometimes you might feel like your provider asks the same questions you already answered for the nurse; we understand this can be frustrating but it is often necessary so your provider can more fully understand your child's symptoms and your concerns). All of our CTMs have specific medical training preparing them to spot any warning signs or "red flags" that may come up when taking vitals and history. If they see a sign for concern they'll move quickly to get an available provider into the room right away (situations like this are one reason you may sometimes have a longer-than-usual wait – sometimes we will have to see patients out of order if someone needs more immediate care for an urgent issue). Once all of your information has been gathered, the CTM will leave the exam room and let your provider know you're ready to be seen.
In the Exam Room with Our Clinical Team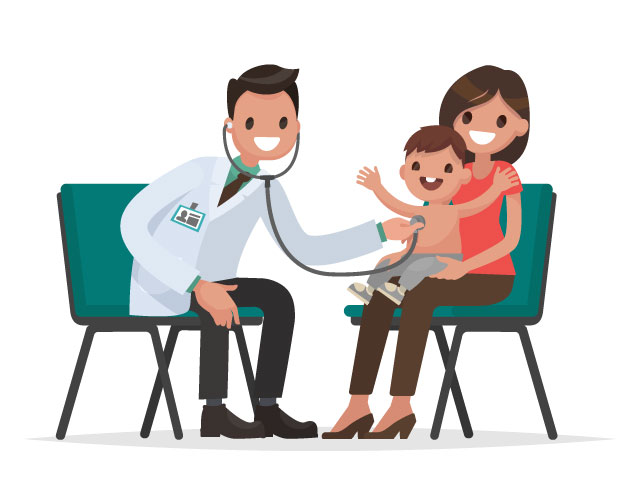 When your provider enters the room they will review your child's history with you to ensure everything is correct and ask if you have any additional questions or concerns. Sometimes additional concerns arise – we understand!
We can usually address these concerns at the appointment; however, sometimes more time is required to fully address separate concerns that may come up during a visit.
The provider will let you know if an additional appointment would be necessary to devote adequate time to explore and diagnose these concerns. After this review, your provider will then begin their exam. During this time the provider will complete the appropriate visit for your appointment that day (for example, the 
Well Visit
  for a well/physical exam, or assessment of symptoms, diagnosis, and treatment recommendations for a sick visit). If your child may need immunizations, testing, or treatments while in the office, your provider will alert your CTM, who will prepare and administer whatever you need to complete your appointment.
Once your visit is complete, you will head back to the front desk to check out. This is the perfect time to make your next appointment and pick up any forms, lab slips, school notes, or referrals that have been printed for you. This is also the time for patients who have a balance or deductible from the visit and/or pay out of pocket to make their payments.
Even though you've walked out the door, we still haven't completed your visit! A few important things are still happening inside our office.
First, your provider completes their Office Visit note or Physical Exam note by entering all the information from your visit into your electronic chart. Once the visit notes are complete they are reviewed by our Billing Department, who attach charges to bills and make sure they're correct before submitting them to your insurance company.
Once the bill has been submitted, our Billers follow the charges and update your account after payment has been received from your insurance company. Sometimes certain charges or parts of your bill may be charged back to you due to your insurance policy. This could include additional deductible amounts, coinsurance charges, etc. Every insurance policy is different and some things covered by one plan may not be covered by another. If there's a balance due, our Billers will look into your account for your preferred payment/billing methods. Many patients prefer to leave a credit card or HSA card on file with our Business Office to make billing transactions fast and easy. If your card is on file, the Biller will automatically charge your account; otherwise, the Biller will prepare and send a paper statement to your billing address. You can also pay balances through your Patient Portal account.
When You Call With a Concern
When you call into our office, you will quickly be able to reach a member of our Front Desk staff. They will do their best to help answer your questions and/or direct your call. If you are calling with a medical question they will take a message for our Triage Nurse. A number of our Clinical Team Members are specially qualified to answer phone calls. They work as a team to respond to all questions and concerns regarding medical issues and patient care. While they are able to answer many of these questions themselves, sometimes more complex issues will arise.
If that happens, they will consult with one of our providers to get you the best possible care advice.
All the care advice they discuss with you is recorded into your electronic medical record and reviewed by a provider. Because of those electronic medical records, we can access your information and treat you with the same great care no matter which office location you visit.
That's a look behind the scenes of what happens before, during, and after your visit to Center for Pediatric Medicine. We hope it gives you some idea of how we operate, and of all the people who work together as a team to keep you and your children as healthy and happy as we can.
If you want to know more, or if you have any questions, feel free to ask us in the office anytime!
CPM offers prenatal newborn classes. Classes have limited space each month. Please call our main office today to request our availability.
New Patient Meet and Greets
Come tour our office and learn more about the Center for Pediatric Medicine. Please contact our main office at 203-790-0822 to book an office visit tour.
Patient Centered Medical Home
Leading Physician's of the World